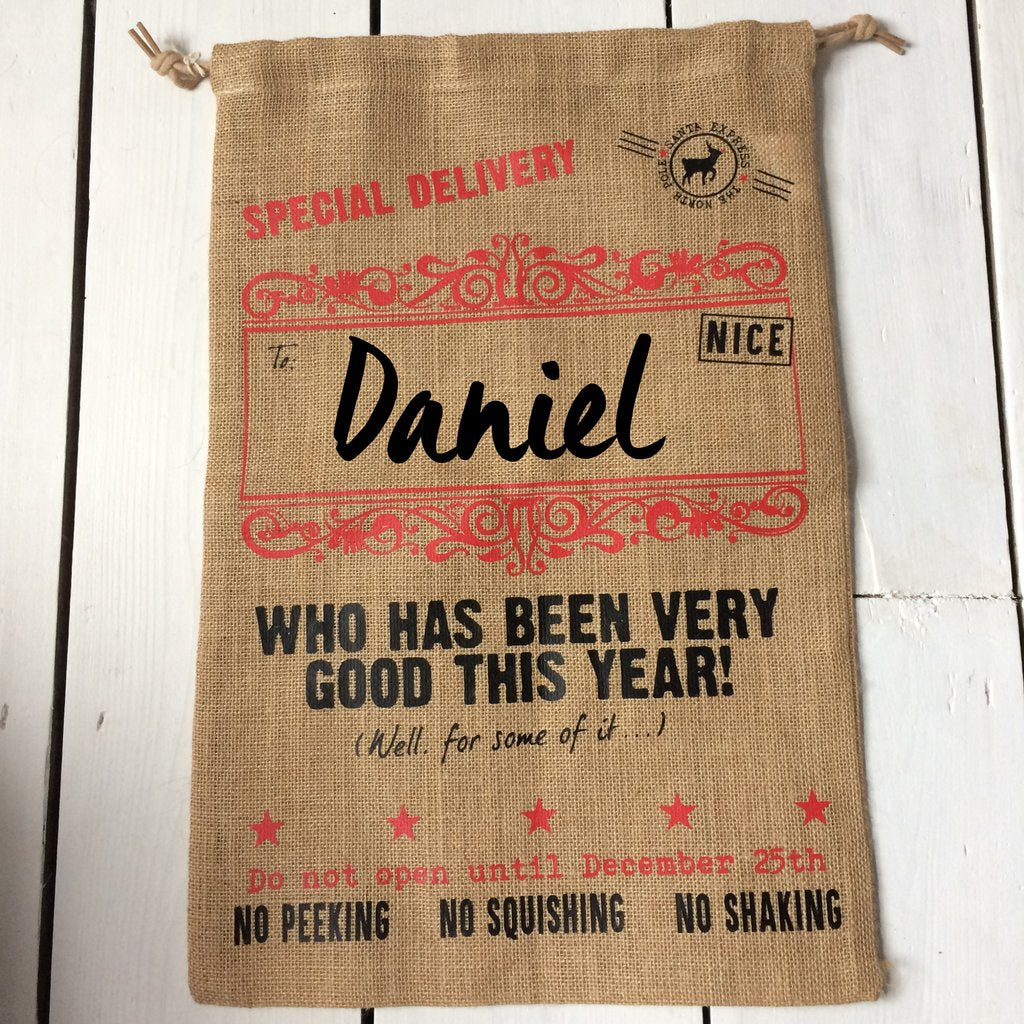 Traditional Cheeky Santa Sack
We have a delightful range of Santa sacks to personalise; suitable for children, adults and furry friends! See descriptions below for designs and sizing.
Available in medium, large or XL and in crisp calico or rustic hessian and featuring a drawstring to keep all those presents secret, these sacks are screen-printed by hand in rural Wiltshire for that authentic feel!
Traditionally Cheeky (Medium)
Our medium, beautiful and (let's face it, cheaper to fill) slightly cheekier Santa Sack! With an additional sentiment following 'Who has been very good this year' of (Well, for some of it...) it's a more humorous version of the classic.
Personalise with name
Measures: Calico 45cm x 30cm or Hessian 45cm x 30cm

Traditionally Cheeky (Large)
Our most popular sized Santa Sack! With an additional sentiment following 'Who has been very good this year' of (Well, for some of it...) it's a more humorous version of the classic. There's plenty of room for Santa to fill with choice gifts... What better way to start Christmas Day?
Personalise with name (providing they've been good, of course!)
Measures: Calico 55cm x 40cm or Hessian 55cm x 40cm


Traditionally Cheeky (Extra Large)
The bumper sized Santa Sack! With an additional sentiment following 'Who has been very good this year' of (Well, for some of it...) it's a more humorous version of the classic. There's plenty of room for Santa to fill with choice gifts... What better way to start Christmas Day?
Personalise with name (providing they've been good, of course!)
Measures: Hessian 75cm x 55cm
---
---
More from this collection